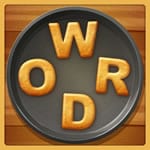 Word Cookies is one of the top games for the moment. This game has been on the top of Word games in Play Store and App Store for almost all year 2018 and starting of year 2019. Word Cookies is developed by Bitmango which is well known for their games like Word Jumble Champion and Words Crush: Hidden Words. We are fans of this game and we have solved all their levels starting from Home Baker until Jackfruit category. We have posted Word Cookies Jackfruit Answers as well which is the latest category of the game until June 2019. Word Cookie Solutions we have posted here are categorized and very easy to navigate and very easy to find the correct answers or solutions for specific levels.
Here there are Word Cookies Guava Special Level Answers
cede, clod, cloud, clue, clued, cod, code, cold, cope, coped, could, coup, coupe, couple, coupled, cue, cued, cup, deco, decouple, deep, deuce, doe, dole, dope, due, duel, duo, dupe, eel, elope, eloped, elude, led, lode, lop, lope, loped, loud, ludo, ode, old, peel, plod, pod, pole, poled, puce
If you find wrong word answers in any of these posts, then I encourage you to write a comment on the form below and we will fix everything on next update.
Click here to go back to: Word Cookies Answers